Nelson's watch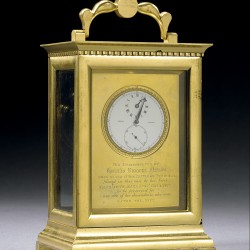 In 2004, shortly after the publication of Nelson's Purse, I was contacted by the owner of a remarkable Nelson treasure. Recently inherited, the watch had been on loan since 1962 to the National Maritime Museum in Greenwich, although it was in the reserve collection and not on public exhibition view when I visited the museum with the owner to see it for the first time. The gold pocket watch, made by Josiah Emery of Charing Cross London, was carried by Nelson at the battle of Trafalgar. After his death, it was inherited by his brother William, first Earl Nelson before passing to the earl's daughter Charlotte. She mounted the watch in a carriage clock case which she engraved:
THE CHRONOMETER OF Horatio Viscount Nelson WORN BY HIM AT THE BATTLE OF TRAFALGAR placed in this case by his Niece CHARLOTTE MARY, LADY BRIDPORT to be preserved for any of her descendants who may ENTER THE NAVY
I arranged for the watch to be offered for sale as the highlight of an auction dedicated to relics and artefacts of Nelson at Sotheby's in October 2005. However, the publicity surrounding the sale of the watch (and my appearance with it on TV's Richard & Judy!) led to the intervention of US philanthropist Bruce McMahan who wished for it to remain in the UK  and to be displayed at the NMM, Greenwich. He purchased the watch by private treaty before the planned auction and duly loaned it back to the NMM with the intention that it should not be sold until at least the tercentenary of Trafalgar in 2105 .
GALLERY OF IMAGES