"Lord Nelson's Victory off Trafalgar" rediscovered painting by American artist Mather Brown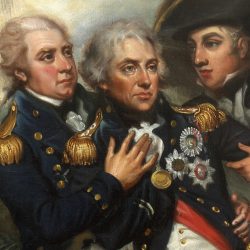 MATHER BROWN (1761-1831)
Lord Nelson's Victory off Trafalgar
Oil on Canvas, circa 1805-7.
101.6 x 124.5cm (40 x 49 inches), framed.
PROVENANCE:
After 1807: Sold by the artist to the "Mayor of Liverpool", probably John Bridge Aspinall (1758-1830, Mayor of Liverpool in 1804).
May 1922: Sold Christie's, London.
1966: With Hahn & Son, London.
1966-70: With J.S.Maas & Co., London.
1970: Collection of R.H.Strudwick, Jersey, Channel Islands.
2021: Private US Collection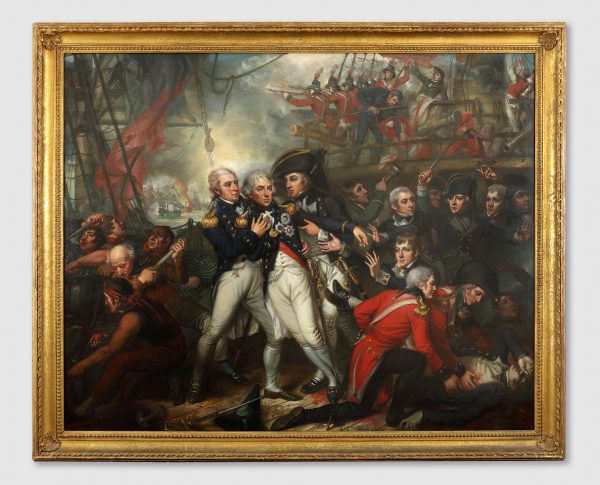 This large rediscovered painting depicts the moment Admiral Lord Nelson was wounded on the quarterdeck of HMS Victory during the battle of Trafalgar. Nelson is shown falling into the arms of two officers identified as (left) Captain Thomas Masterman Hardy and (right), possibly, Lieutenant John Yule. Nelson is wearing admiral's undress uniform with stars, Bath ribbon and one large gold naval medal. Blood is beginning to seep from his shoulder wound. His bicorn hat, with distinctive green shade, has been knocked off and is lying at his feet beside a sword dropped by Captain Hardy in catching the admiral. Nelson looks dazed but is still conscious.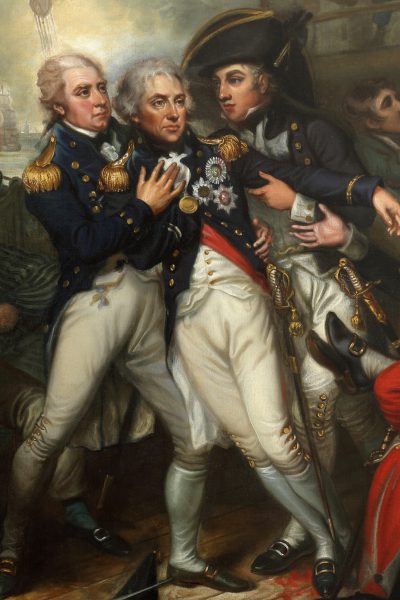 Battle rages around this central group. To the left, a crew sights their gun; above right, on the poop, marine sharpshooters target Nelson's shadowy assassin in the tops of the French warship Redoubtable. Below right, two marine officers tend to a stricken man, possibly Nelson's secretary John Scott who was mortally wounded by shot shortly before the admiral was hit. Kneeling to assist, a young officer identified as Lieutenant George Bligh has noticed the tragedy unfolding in his midst and instinctively reaches out to help.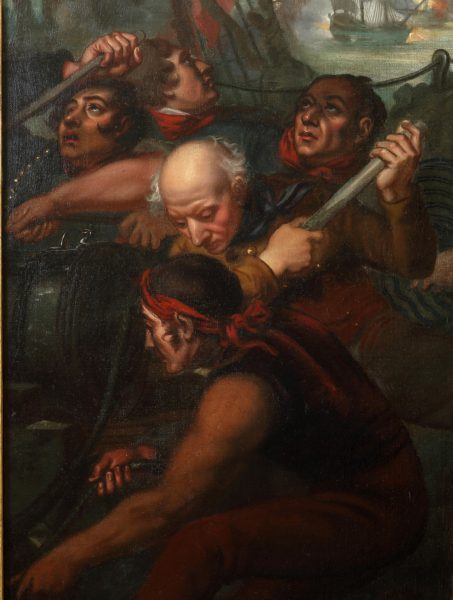 Completed before October 1807, Lord Nelson's Victory off Trafalgar was Mather Brown's attempt to win 500 guineas offered by printmaker and publisher Josiah Boydell for the 'best picture' of the battle of Trafalgar and death of Nelson. Other artists vying for this valuable prize included Samuel Drummond, Benjamin West and the eventual winner, Arthur William Devis [National Maritime Museum BHC2894]. Unlike his rivals, Brown chose to portray the moment Nelson was shot rather than its emotive aftermath. In fact, as Americans, the efforts of West and his former star pupil Brown to win the prize may have been disqualified as Boydell's challenge had been specifically aimed at 'British artists'.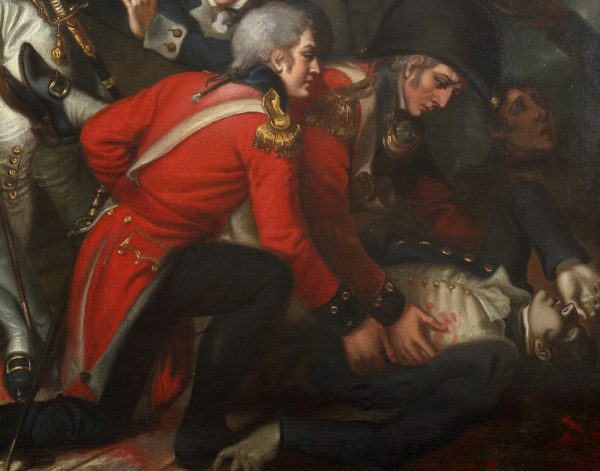 No doubt Brown hoped to replicate the commercial success of his Lord Howe on the Deck of the 'Queen Charlotte', 1 June 1794 [National Maritime Museum BHC2740]. The theatrical quarterdeck staging of both paintings is similar with an emphasis on portraiture for the lucrative print market. Brown's portrait of Nelson in Lord Nelson's Victory off Trafalgar is especially satisfying and compelling suggesting their earlier acquaintance, possibly through artist and dealer Daniel Orme who was well-known to both men. The rediscovery of Lord Nelson's Victory off Trafalgar adds considerably to the late portraiture of the admiral whilst the inclusion of Lieutenant Bligh led, as the impoverished Brown may have hoped, to a commission to paint a half-length canvas of the officer [National Maritime Museum BHC2562].
After failing to win Boydell's prize, Brown considered raffling his painting, even having cards printed to promote it. Failing interest, it was eventually purchased instead by the 'Mayor of Liverpool' probably John Bridge Aspinall (1758-1830, Mayor of Liverpool in 1804) who sat to Brown in 1810 [Walker Art Gallery, Liverpool]. In his fragmentary memoir [British Library, Add. MS 33397], Brown lists Lord Nelson's Victory off Trafalgar as having been engraved although no print has been found.
Twenty years later, Brown returned to the same subject for his painting of The Battle of the Nile [National Maritime Museum BHC0510]. Exhibited at the Royal Institution in 1825, The Battle of the Nile was another failed attempt to win a prize for the best representation of the action.
Purchased in 2022 by the National Museum of the Royal Navy, Portsmouth