The Nelson Map, Norfolk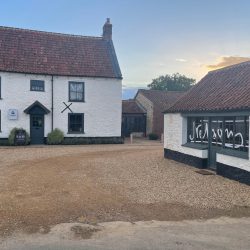 In 2022, I created The Nelson Map for the National Museum of the Royal Navy in Admiral Lord Nelson's birthplace village of Burnham Thorpe in North Norfolk. Based on a survey of Norfolk published in 1797, the map highlights places of especial interest to Nelson's early life including his school in Norwich and the houses of his brothers and sisters.
The map covers the floor of an 18th century building alongside the Lord Nelson pub at Burnham Thorpe, formerly the Plough tavern which Nelson knew well. The map can be explored on foot with places of interest highlighted on the map using the flags of Nelson's famous last signal at the Battle of Trafalgar: "England Expects…" The installation is accompanied by a commentary of Nelson recounting his life and career in his own words, based entirely on his letters.
The Nelson Map is open with the Lord Nelson pub and is free for all to visit.