CHARLES DICKENS SILVER MEAT DISH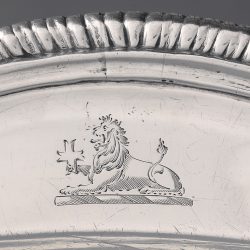 A George II silver meat dish, plain oval with gadroon edge, by Samuel Herbert, London 1759, later engraved in two places with the crest of Charles Dickens (1812-1870).
Dimensions: 38 x 28cm (15 x 11 inches). Weight: 28.2 oz. approx..
Despite feigning no interest in his family pedigree and mocking the pretensions of those who did, Charles Dickens enthusiastically displayed the heraldic crest adopted by his father on his own letterhead, bookplate and tableware. In Our Mutual Friend, Dickens skewered the affectations of the nouveau riche Veneering family and how the looking glass in their dining room: 'Reflects the new Veneering crest, in gold and eke in silver, frosted and also thawed, a camel of all work. The Herald's College found out a Crusading ancestor for Veneering who bore a camel on his shield (or might have done it if he had thought of it) '. And yet, Dicken's own father John had done similar when he illegitimately claimed an abeyant crest granted in 1625 to a William Dickens, merchant of London: A lion couchant or, holding out in the gamb a cross patonce sa. Regardless of his lack of consanguinity to this William Dickens of London, this was the crest above his initials used when the John's son Charles Dickens ordered an armorial dinner service from the Spode porcelain factory in 1867.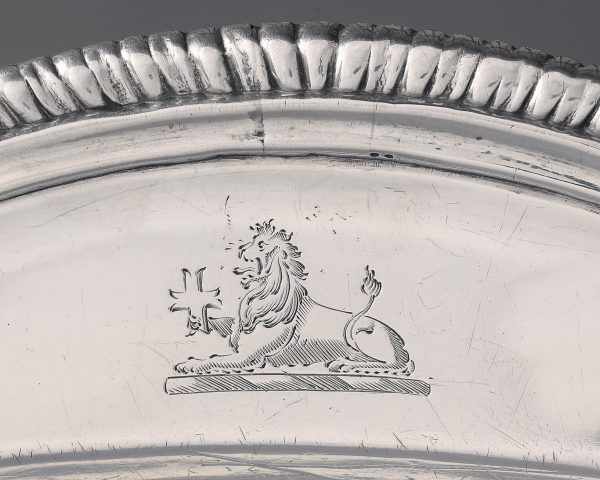 Over time the crest evolved in the hands of different decorators and engravers. In fact Charles Dickens, perhaps anxious to draw a distinction with his profligate father, had already suggested a subtle change to his adopted crest. Writing to cabinetmaker John Overs in 1840, he directed―with an illustration―that the 'lion holds in his right paw, a maltese cross, that is to say, so that all the four parts are broad at the base, and go tapering up to the point whence they diverge'.  This version of the crest, unrecorded at the College of Arms and unique to Charles Dickens, was used on the author's bookplates, letterhead and silverware, such as this silver meat dish.
Made in 1750, the silver dish was probably a century old, and of outmoded Georgian style, when it entered the possession of Charles Dickens. It may have been a treasured family heirloom or an economic purchase to maintain a polite appearance at table on a budget. The service of dining silver used by Dickens ―two table spoons from which survive at the Charles Dickens Museum―was also of a Georgian date and both are similarly engraved with the same Dickens crest.
Sold in association with Jarndyce Booksellers to a private collector.