Historic Model of HMS Victory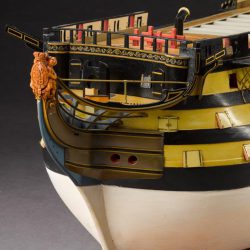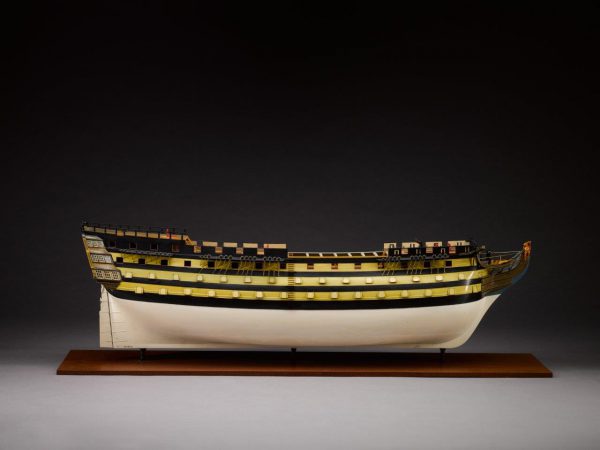 On 5 July 2022, Sotheby's London sold an extraordinary early model of HMS Victory which had been on loan at the National Maritime Museum, Greenwich since 1962. Familiar to scholars, the model is the only known contemporary model of Victory in her Trafalgar state and it offers an invaluable and important material record to the long history of the ship.
At the auction, the model sold for £656,000 and it was subsequently secured for the national collection by the National Museum of the Royal Navy at Portsmouth.
I had negotiated the sale through Sotheby's on behalf of the owners and here are my research notes which were published in the sale catalogue.
A full hull model of HMS Victory, a 100 gun first rate three deck ship of the line.
Unknown maker, English, circa 1800.
Constructed during Victory's large repair in 1800-1803 and the only known contemporary full hull model of Admiral Lord Nelson's celebrated flagship in the state that she fought the battle of Trafalgar
Scale: 1:48; overall dimensions approx.:  400 x 1420 x 340 mm / 15 ¾ x 56 x 13 ½ inches.
Provenance:
Probably George Green (1767-1849) of Blackwall Dockyard, London.
Messrs R and H Green, shipbuilders of Blackwall Dockyard, London
Henry Green (1838-1900)
Admiral Sir John Frederick Ernest Green KCMG CB (1866-1948)
By direct family descent.
Exhibited:
1891: Cat. No. 4493, Royal Naval Exhibition, Chelsea.
1921-1962: On loan to the Royal United Service Museum, Whitehall
1962-2022: On loan to the National Maritime Museum, Greenwich.
Literature:
Official Catalogue of the Royal United Services Museum, London 1924, Cat. No. 3468, p.221.
Peter Goodwin, Nelson's Ships, 2002, ill. p. 250.
Brian Lavery, Nelson's Victory, 2015, ill. p.102
Margarette Lincoln (ed.) Nelson & Napoleon, National Maritime Museum London 2005, Cat. No. 246, ill. p.212.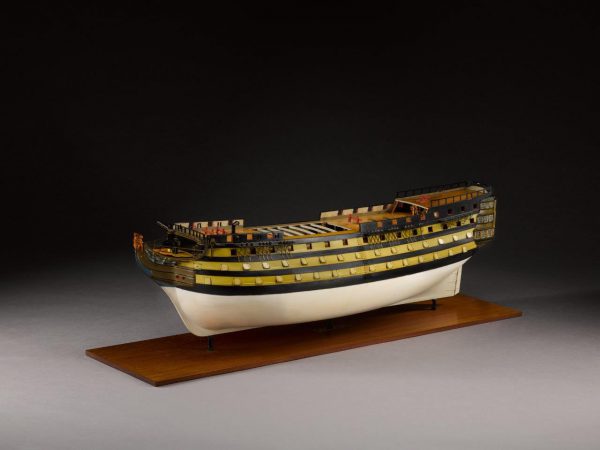 By 1799, HMS Victory was already thirty years old and in apparent terminal decline after a fairly unspectacular career. Launched at Chatham in 1765 but not commissioned until 1778, the ship had seen fitful action during the revolutionary wars with America and France; most famously as the flagship of Admiral Sir John Jervis at the Battle of Cape St Vincent in February 1797 where the exploits of Commodore Nelson had first caught the public's eye. Following the action, an Admiralty survey of Victory found 'several of her hanging knees sprung on the lower, middle and quarter decks, and 2/3 of all the knees in the ship require unbolting and re-faying, as the ship has strained very much; the copper is much broke at the water's edge, she has received some shot below the water's edge, lower masts are wounded and fished, the starboard knight's head is badly wounded and must be shifted'. In addition to the damage, Victory was becoming outdated and although the ship still sailed well, she risked ending her days as a prison hulk in the Medway. At the eleventh hour, with shipping losses mounting in the war with France, the Navy Board, anxious not to waste a valuable three decker battleship, intervened. A 'middling' then 'great' repair was agreed and in August 1799 Victory went into dry dock at Chatham with work beginning the following February.  She would remain there for three years, latterly during the short-lived peace with France following the Treaty of Amiens on 25 March 1802.
Initially, there were ambitious plans to modernise the ship by adding a section amidships to extend the hull, making her sleeker and faster. But these were quickly abandoned―likely on account of cost―and beyond widespread hull repairs, only a small number of visible but critical changes were made, all of which are evident in this contemporary model. Despite the efforts at cost-cutting, the repairs would eventually amount to £70,933.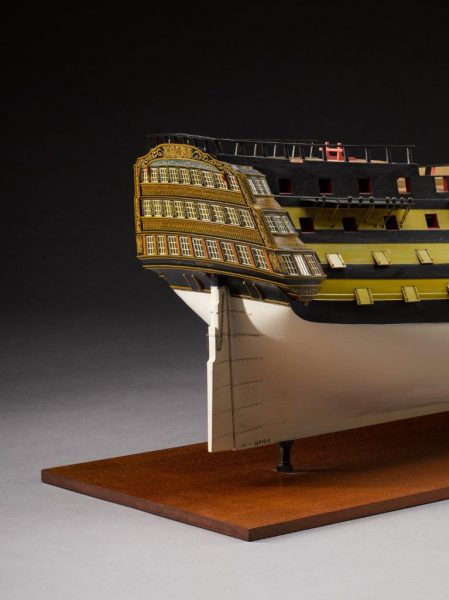 The most significant alteration to the outward appearance of Victory was at the stern. An Admiralty directive of October 1798 had abolished open stern galleries with their gilded 'carved works': features that were expensive and subject to structural failure at sea. The stern was closed in and a triple arched transom attached with glass panels, low relief balustrades and mouldings on the taffrail and quarter pieces. By eighteenth century standards, the painted decoration was restrained and limited to the royal coat of arms with supporters, and devices symbolising the trophies of war (rather than the royal arms, today Victory shows a plume of Prince of Wales's feathers at her stern). The jolly-boat davits at the stern were also removed, together with two of the original four stern gun ports. To maintain firepower, extra ports were cut on the lower gun deck. The most eye-catching addition to the ship was a new figurehead (carved at a cost of £50) of cherubs supporting a shield emblazoned with the royal standard. This replaced the far larger and more complex 1765 figurehead of allegorical figures supporting a bust of the king. Finally Victory was painted in its now characteristic yellow and black 'bumblebee livery' (before Trafalgar, Nelson would have the port lids further painted black to create his bespoke chequerboard effect).
The repairs at Chatham were neatly summarised by William Rivers (1788-1856), midshipman in Victory who lost his leg at Trafalgar. He recalled that: 'During the time at Chatham under repair to 1803, the stern galleries were taken away and her stern made a flat one; the head was removed, which was then four gigantic figures representing Europe, Asia, Africa and America; two naked boys supported a shield with the Standard engraved thereupon, with a Royal Crown on the top; she had an additional port cut on the lower deck, which made 16 on either side, and the two transome-ports filled in, which made only two.'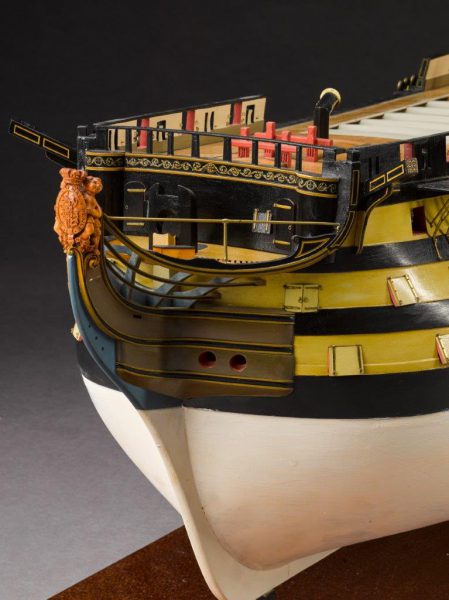 Victory was still under repair in March 1803―and likely to go into Ordinary (the dockyard reserve) when completed―when the Admiralty sent orders to urgently prepare the ship for sea on the likely resumption of war with France. The precipitate end to the works is evident in the model which shows never-to-be completed details such as poop railing and solid bulwarks for crew protection.
On 9 April, Victory left dock for rigging before sailing into the river where she anchored to take on water and stores. There she was sketched by John Constable who recalled how: 'At Chatham I hired a boat to see the men of war, which are there in great numbers. I sketched the Victory in three views. She was the flower of the flock, a three decker of 112 guns (sic). She looked very beautiful, fresh out of dock and newly painted. When I saw her they were bending the sails; which circumstance, added to a fine evening, made a charming effect.' Constable's sketches, discovered in 2002, are probably the only images of Victory in the same pristine state as her model. Two and a half years later, when the ship returned to Chatham after Trafalgar, she was shot through, with her masts and yards largely gone, her galleries and bow shattered and having deposited her dead admiral in London ahead of his State Funeral.
Following the battle, Victory was repaired and re-armed before returning to sea but she would never be the same ship again. Re-rated a second-rate line of battle ship, she was paid off in 1812. Two years later, the ship went into dock again for another large repair emerging with the new style round bow, hull shape and flat stern familiar to visitors to Portsmouth today. Only this model, and Constable's sketches, now bear witness to the very short period when Victory was in her prime Trafalgar state.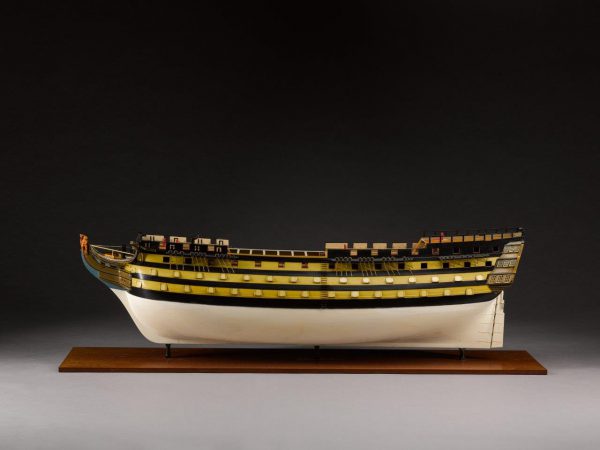 In the nineteenth century the model belonged to the Green family of shipbuilders at Blackwall Dockyard on the Thames in East London. George Green (1767-1849) had trained as an apprentice at the yard before marrying the daughter of its owner John Perry and becoming partner in 1797. Since the seventeenth century, the yard's principal business had been building ships for the East India Company but under Green's management it diversified into whalers, fast frigates for the merchant fleet, gunboats for the Royal Navy, steam and eventually iron ships. Following George's death, the yard continued to prosper under his son Richard Green (1803-1863) trading as R & H. Green in partnership with his half-brother Henry (1808-1876). The firm continued into the twentieth century and, under different guises, survived into the 1980's.
The Blackwall Yard had a reputation for displaying high status ship models. Unlike the Royal Dockyards at Portsmouth, Chatham, Deptford and Woolwich; Blackwall had always been privately managed with its owners needing to project their shipbuilding skills (and affluence). In the seventeenth century, former owner Sir Henry Johnson, a friend of Samuel Pepys, had displayed his celebrated collection of ship models at his mansion within the yard, later occupied by the Greens. These included a model of Britannia, a 1719 warship of 100 guns which until 2020 resided on loan alongside Victory at the National Maritime Museum, Greenwich.
Other models from the Green collection at Blackwall Yard included Amazon, 32 guns, made circa 1780 (now National Maritime Museum SLR0315); Leander, 50 guns, made circa 1800 (NMM SLR0650) and a Trinity House yacht made circa 1800 (NMM SLR0249). There was also a model section of a bomb vessel, circa 1800, formerly belonging to Admiral Lord Nelson (ex loan NMM SLR1798) which, together with the models of Leander and the yacht, was exhibited by R. & H. Green alongside Victory at the Royal Naval Exhibition at Chelsea, which Queen Victoria visited on 7 May 1891.
Following the death of George Green's grandson Henry in 1900, Victory was inherited by John Green (1866-1948), later admiral in the Royal Navy who commanded a battle cruiser at Jutland in 1916. In June 1921, whilst Green commanded naval forces in support of White Russians