Hat Cockade Worn by Sir Philip Broke in the action with the Chesapeake June 1st 1813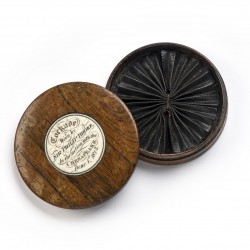 Plain circular wooden box containing a black Royal Navy cockade waterproofed for sea service, box with applied plaque inscribed: "Cockade Worn by SIR PHILIP BROKE In the action with the CHESAPEAKE June 1st 1813″
Diameter of box: 100 mm / 3 7/8 inches
Height of box approx: 25 mm / 1 inch
Diameter of cockade approx:  80 mm / 3 1/4 inches
Provenance:
Sir Philip Bowes Vere Broke K.C.B. , Rear Admiral of the Red (1776-1841)
By descent to James St Vincent Broke de Saumarez, 5th Baron de Saumarez (1889-1969) of Shrublands Park, Suffolk.
1950: identified in inventory of "Contents of small cabinet in Muniment Room" at Shrublands as "Silk sachet [sic] worn by Sir Philip when wounded"
By family gift to Miss Margaret Raitt daughter of Major-General Sir Herbert Aveling Raitt, K.C.I.E, C.B. (1858-1935)
By her gift to the grandmother of the present owner
UNIQUE AND POIGNANT RELIC OF ONE OF THE MOST FAMOUS ACTION IN NAVAL HISTORY.
This box contains a unique relic of one of the most celebrated single ship actions in British and American naval history. On 1 June 1813, during the war with America, the 38 gun frigate Shannon, commanded by Captain Philip Broke, engaged the similarly armed United States warship Chesapeake outside Boston harbour. There was a short but very violent close action battle with heavy casualties on both sides during which Broke led his men in a boarding party to seize and secure Chesapeake.
During the engagement Broke received a serious head wound from a cutlass blow whilst the American captain James Lawrence – who famously implored his men "Don't give up the ship!" – was mortally wounded.
Following his return to England with his prize, Broke was feted as a national hero receiving various honours including silverware, a sword, a gold medal and a baronetcy. At Broke Hall, his seat in Suffolk, Broke displayed these trophies alongside paintings of the action, the figurehead of Shannon and a gilded star from the quarters of his captured foe Chesapeake (sold Sotheby's Lot 260, 5 October 2005  £66,000). Philip Broke appears in the popular novels of Patrick O'Brian as a cousin of Jack Aubrey. The Chesapeake action is portrayed The Surgeon's Mate and The Fortune of War. Chesapeake herself was scrapped in 1820 with many of her timbers recycled into the building of a mill in Hampshire although smaller pieces were used by Broke as inkstands and snuff boxes.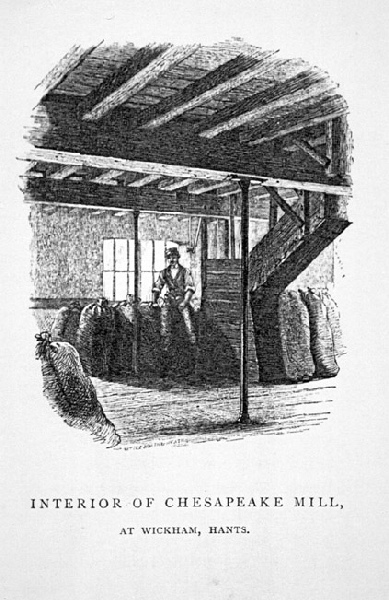 The discovery of this box reveals that Broke also preserved the cockade from the hat he was wearing during the action as a memento of his terrible head wound. Unusually, Broke preferred a round tall hat to the cocked hat worn by most naval officers of the period, but the standard issue black royal navy cockade can still be clearly seen on the hat in an engraving from the Broke family collection published in 1866. It is likely that the box holding the cockade is made from timbers recovered from Chesapeake.
Sold in 2022 to a UK private collector