Dining with Admiral Lord Nelson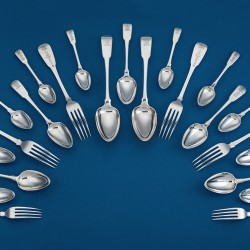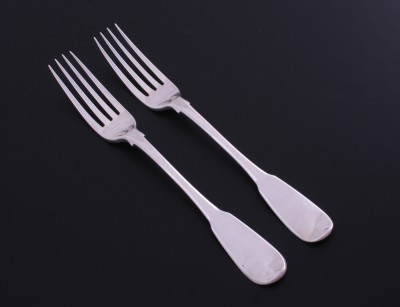 This important 26 piece collection of silver flatware from Lord Nelson's personal service – the largest group remaining in private hands – illustrates the evolution of the admiral's armorial bearings as he accumulated honours and titles in the years leading to his death at Trafalgar.  The earliest pieces dated 1796/7 and made by London silversmiths William Eley and William Fearn are simply engraved with Nelson's San Josef crest designed to display the stern of the Spanish warship he captured in spectacular style at the battle of Cape St Vincent on 14 February 1797. The crest was granted following Nelson creation as a knight of the Bath in March the same year.
However, the admiral's use of a single crest was shortlived. After the battle of the Nile on 2 August 1798, when Nelson destroyed the French fleet anchored off Egypt, he was showered with awards, prizes and titles. Selim III, Sultan of Turkey, who was threatened by French ambition in the region, was especially generous presenting Nelson with trophies including a Chelengk : a diamond aigrette, or feather, to be worn on a turban as a traditional Ottoman reward for valour.  Soon afterwards, when Nelson was created Baron Nelson of the Nile, he sought and was granted approval from the college of Arms in London to augment his coat of arms with the Chelengk as an additional crest. As Nelson grew wealthier – and as his fame demanded more entertaining when in England  – he added to his existing service of fiddle pattern flatware, now incorporating the Chelengk crest alongside the San Josef device.
Differences in engraving style indicate the pieces were ordered at intervals and engraved by different hands in the workshop. He continued to principally patronise the work of William Eley and William Fearn, probably ordering pieces through royal goldsmiths Rundell & Bridge in Ludgate Hill who also arranged the magnificent service of silver presented to Lloyd's Coffee House after the Nile. However the last additions in the collection, a set of tea spoons dated 1805 so ordered before Nelson's departure on his final, fateful mission; were made by silversmith Solomon Hougham indicating a shift in patronage which may have continued had the admiral lived. Nevertheless, what survives offers an intimate view of Nelson's domestic life. Simply knowing that these pieces were used by Nelson, his mistress Emma Lady Hamilton and their circle of friends during long-ago dinners at Merton is thrilling to collectors and historians. Full details on all the pieces in the Nelson service can be seen at My Family Silver.
Sold by private treaty to a UK private collector.