Nelson's Nile Silver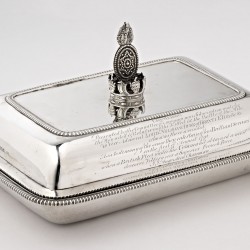 In 2013, eight years after advising the family of Catherine Matcham in the sale of Nelson relics, I was instructed by descendants of Lord Nelson's other sister Susannah to seek a buyer for a highly important and historic George III armorial silver entree dish and cover presented to the admiral by Lloyd's Coffee House after the battle of the Nile in 1798. One of a set of four similar dishes commissioned by Nelson from Royal Goldsmiths Rundell & Bridge, it was the last ever likely to appear for sale as the others were purchased for the collection at Lloyd's of London almost a century ago. The dish was the last important item of presentation silver remaining with Nelson's family and its appearance on the market created great excitement in the press and media. See Nelson press cuttings
I published a booklet recounting the remarkable history of the dish which was exhibited at the International Fine Art & Antiques Fair, Olympia in June 2013 where it attracted much comment and interest. I subsequently negotiated a sale by private treaty to a UK private collector for a record price for an item of silver belonging to Nelson.
See the full text of the history of the dish see: Nelson's Nile Silver
Please contact me if you would like a printed and illustrated version of this text.
GALLERY OF IMAGES