Wellington's Commanding Engineer in the Peninsula Wars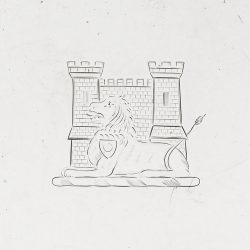 A large George III oval silver salver, plain with double beaded border standing on four bracket feet, centre engraved with the family crest of Jones for General Sir John Thomas Jones (1783-1843).
By John Scofield, London 1780.
Dimensions approx: 18 x 14 inches / 4575 x 1015 mm
£4950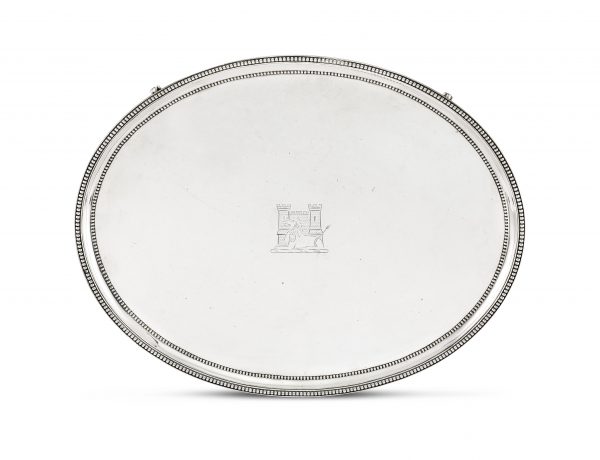 This silver tray belonged to Sir John Thomas Jones (1783-1843), one of the finest military engineers of his day. Commissioned in the Royal Engineers in 1798, he worked first on the defences at Gibraltar before returning to England to construct fieldworks to defend London against the threat of French invasion. He then accompanied the expedition to Naples and Sicily, where his work was commended by the King of Naples and General Sir John Moore. He was present at the Battle of Maida in 1806 and afterwards directed the successful assault, then retention of Scylla Castle. In 1809, he accompanied the disastrous expedition to Walcheren before embarking for Lisbon to work on the lines of Torres Vedras. Appointed brigade major in the Peninsula, then acting commanding engineer, Jones served at all the major sieges of the war including against Ciudad Rodrigo―where Wellington mentioned him in Dispatches―Badajoz, for which he received the army gold medal, and at Fort Picuriaz. At Burgos, Jones was wounded whilst directing arrangements for exploding a mine, forcing his return to England where he published "Journal of Sieges Carried on by the Allies in Spain in 1810, 1811, and 1812" (2 vols., 1814), the first of several such professional works.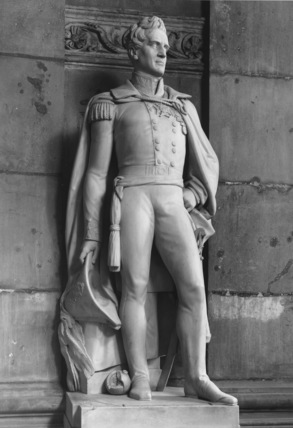 In 1815, Jones was appointed commanding engineer in the Netherlands where he oversaw a massive programme of defensive works. An intimate of the Duke of Wellington, Jones was subsequently sent to Corfu, then back to the Netherlands during the 1830 July Revolution, before returning to Gibraltar in 1840.
Made CB in 1815, baronet in 1831, and KCB in 1838, Jones adopted, as his crest, "In front of a castle, a lion couchant argent, gorged with a wreath of laurel, and suspended therefrom an escutcheon gules, charged with a medal or."
Following his death, a statue to Jones was raised in St Paul's Cathedral. General Sir Harry Jones (1791-1866), commanding engineer in the Crimean War, was his brother.