Warts and All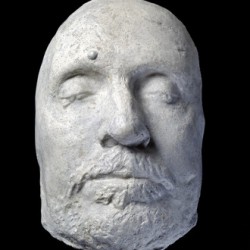 In 2013, I wrote the catalogue entry for a plaster cast of the Death-mask of Oliver Cromwell from the collection at Warwick Castle which accompanied an exhibition of miniatures by Samuel Cooper (1607-1672) at Philip Mould & Company, London W1.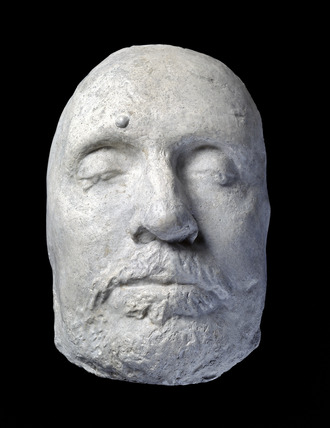 Oliver Cromwell by Unknown artist, plaster cast of death-mask, probably 19th century
When Oliver Cromwell died at Whitehall on 3 September 1658, his body was dissected and embalmed according to ancient royal ritual. Medallist Thomas Simon (c 1623-51) then modelled the corpse's features in wax for an effigy to be displayed on the Lord Protector's coffin during a lengthy lying in state at Somerset House. The effigy was focus of attention during the elaborate funeral procession to Westminster Abbey which followed on 23 November although, as was customary, the body itself was quietly interred in the Abbey beforehand. At the Restoration, the effigy was unceremoniously hanged and burned in Whitehall.  Simon may have based his wax portrait on this death mask of the Protector, later casts of which are now in several collections. As it is known that Cromwell's corpse underwent the grisly autopsy (on suspicion that the Protector had been poisoned) and then the lengthy process of embalmment in the hours immediately following death, the mask must have been taken some time later but probably before the body was conveyed to Somerset House on 20 September. Pads are clearly visible beneath the eyelids to prop up the already sunken eyes but the mask has also been improved by a re-modeller. Neither the bandages covering the saw cut where the skull cap had been removed then roughly sutured back during autopsy nor those supporting the sagging chin, a common feature of death masks, are apparent. In addition for its possible use by Thomas Simon, this sanitised image of the Lord Protector reposing in death may have been designed for distribution as a memento mori within a close circle of friends and family. It was later widely reproduced to satisfy growing demand for souvenirs and artefacts relating to Cromwell, particularly in the nineteenth century when the flourishing market for death masks of famous people was catered for by several cast makers in London and Paris. Difficult to date―this example has been at Warwick Castle since at least 1868―the surviving casts show variations with some displaying moulding seam lines or even lacking Cromwell's trademark mole.
Further reading:
Cooper, John, Oliver the First: Contemporary Images of Oliver Cromwell, 1999
Hook, M. and MacGregor, A., England under the Stuarts, (Oxford: Ashmolean Museum, 2003)
Pearson, Karl and Morant, G. M., Biometrika, Vol. 26, No. 3 (Dec., 1934), The Portraiture of Oliver Cromwell with Special Referenceto the Wilkinson Head, pp. 1-116
Piper, David, The English Face, 1992.