The Waterloo Candlesticks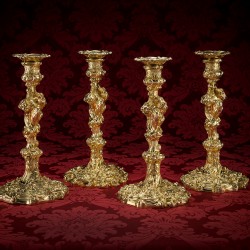 In the run-up to the 2015 bicentenary of the battle of Waterloo, I sold this wonderful set of silver gilt candlesticks which belonged to General Rowland Hill who was second in command to the duke of Wellington at the battle.
A SET OF FOUR LARGE GEORGE III SILVER GILT CANDLESTICKS
MARK OF WILLIAM PITTS, LONDON, 1816
Each on shaped circular base, cast and chased with a lion, dolphin and dragon among foliage scrolls and rocaille, the stems cast with an eagle and lion mask and terminating in a spool-shaped socket, the detachable nozzles similarly cast, each engraved underneath and on the nozzle with a crest below a baron's coronet, each marked on base and nozzle
Height approx.: 12 5/8 in. (32 cm.) high
Total weight approx.: 268 oz. (7,600 gr.)
The crest is that of Hill, for General Rowland Hill, 1st Viscount Hill of Almarez (1772–1842).
The complex and finely cast design of these candlesticks reflects the growing taste for historicising styles in the early part of the 19th century, including a revival of the rococo style. Strewn with English roses and with motifs of lions, (the British army), dolphins (sea power) and eagles (Prussian allies and/or French enemy), the candlesticks also display the patriotic fervour of the Napoleonic Wars.

In making them for a famed and much lauded veteran of the battle of Waterloo, silversmith William Pitts used a pattern created by William Story and William Elliott in 1813, further embellishing the candlesticks with gilding as befitted his heroic commission.

These magnificent candlesticks were made months after the battle of Waterloo for General Rowland Hill, 1st Viscount Hill of Almarez (1772–1842) who was second-in command to the duke of Wellington at the action. After entering the army in 1790, Hill rose rapidly, seeing action throughout the ensuing war with France. In 1801 he landed with the British invasion force in Egypt and despite sustaining a severe head wound, led the 90th regiment in pursuit of the enemy to Cairo. Promoted major-general in 1805, Hill distinguished himself through the Peninsula campaign leading the rear-guard action at Corunna (1809) in the defeat of Marshal Soult. He then returned to oust Soult from Porto shortly before the stunning British success at Talavera where Hill was again badly wounded. By now Wellington's most trusted and favourite commander, Hill won further plaudits at Almarez (1812) where he earned the sobriquet "The Surpriser" for stealthily approaching and capturing the enemy's fortifications at night. Hill returned from the Peninsular War as Baron Hill of Almaraz and a national hero. A 133 ft. stone column was erected to his fame in Shrewsbury near Hawkstone, his family seat in Shropshire. Elected a member of parliament, Hill envisaged a career in politics.
However, following the escape of Napoleon from Elba in 1815, Hill was immediately summoned back to Horse Guards by the government and urgently dispatched to join Wellington in Belgium. At Waterloo, Hill was given command of a corps of some 30,000 men with orders to defend the far right flank of the army. As the action progressed and the allied situation became desperate, Hill led a force in desperate fighting to shore up the vital defence of Hougoumont during which his horse was shot from under him. Victory secured, Hill remained in France as second in command of the army of occupation.
In peacetime, Hill returned to politics and the management of his estates. In 1828, with Wellington as prime minister, he was appointed commander-in-chief of the British army undertaking a cautious and modest series of reforms in stark contrast to his daring on the battlefield. On his resignation, due to ill health, in August 1842 Hill was created Viscount Hill though he died just weeks later.
Hill earned the admiration not only of Wellington and the government but also of his men. He was loyal, trustworthy, fearless and, most unusually for the time, genuinely concerned for the welfare of his men. His only apparent foible, much noted upon by amused contemporaries, was his reputation as an epicurean. Throughout the relentless and exhausting campaign in the Peninsula, Hill had travelled with his extensive silver dining service. His candlesticks encapsulate this weakness for luxurious living although they cannot hide his obvious pride in his martial achievements.
Sold to a private collection in the USA.