The Tobacco Lord's Silver Cup
THE FINDLAY CUP: A LARGE GEORGE III SILVER TWO HANDLED CUP AND COVER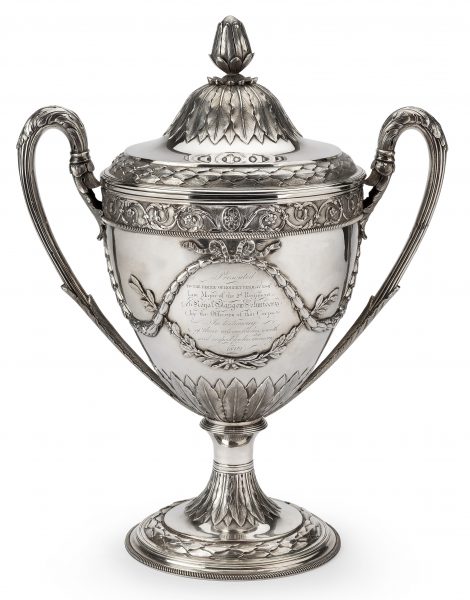 MARK OF PETER, ANN & WILLIAM BATEMAN, LONDON 1802
vase-shaped on acanthus leaf and bead-edge pedestal foot, the body applied with bellflower, oak leaf and bow festoons with obverse a military trophy and reverse a presentation inscription dated 1802, below an applied foliate scroll frieze on textured ground, between reeded handles capped by acanthus leaves, cover further applied with leaves and terminating in an acanthus flower, with gilded interior. Cup inscribed:
Presented
TO THE FAMILY OF ROBERT FINDLAY ESQR
late Major of the 2d Regiment
of Royal Glasgow Volunteers
by the Officers of that Corps
In Testimony
of their esteem for his worth
and respect for his memory
1802
HEIGHT OVERALL APPROX: 405MM / 16 INCHES
WEIGHT APPROX: 2600 GRAMS / 84 OUNZE TROY
As a 'Tobacco Lord', ROBERT FINDLAY (1748-1802) was a leading merchant in eighteenth-century Glasgow and prominent city dignitary.
The sole surviving son of Rev Dr Robert Findlay DD, Professor of Divinity at Glasgow University from 1782 until 1814, Findlay entered the American tobacco trade under his uncle William Cunninghame. He was made partner in Cunninghame's firm in 1773 then managing partner of Cunninghame Findlay and Co. Throughout the 1770's Findlay was based at Falmouth in Virginia frequently visiting Philadelphia on the eve of the declaration of American Independence. When Cunninghame retired, the firm re-structured as Findlay, Hopkirk & Co. and, by 1785, was one of three Glasgow based companies shipping about 90% of all the American tobacco into the Clyde, then Britain's principal tobacco trading port. In 1781, Findlay married Dorothea Dunlop, daughter of the prominent Scottish merchant and banker Robert Dunlop.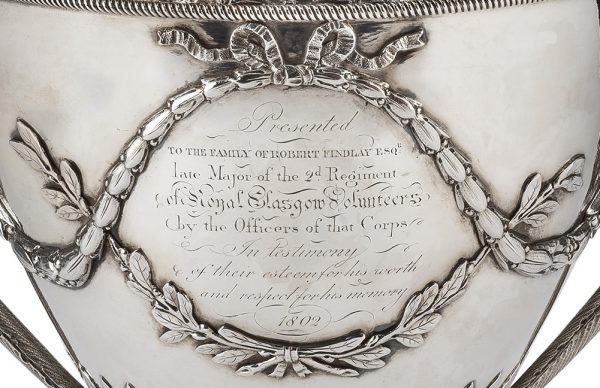 With his growing wealth and family—three daughters and a son—Findlay purchased a mansion and estate at Easterhill, about three miles from Glasgow, and, in 1784, an elegant new townhouse in Miller Street (today conserved as 'The Tobacco Merchant's House'). Surviving the economic turmoil of the American Revolution by diversifying his tobacco business, Findlay was appointed magistrate and one of the earliest directors of the Glasgow Chamber of Commerce, serving as its chairman in 1789, 1794, and 1795. In 1797 he was elected dean of guild at the Merchants House. The same year, as a founding director of Glasgow's Sacred Music Institution, Findlay commissioned John Donaldson of York to install an organ in the Merchants House (transferred to Glasgow Cathedral in 1801).
Robert Findlay was killed in a riding accident on 30 March 1802, aged 54. Although he had died intestate, Findlay's company was successfully continued by his son Robert who opened the Virginia Buildings in Glasgow in 1814.
Raised in 1797 in response to an Act of Parliament and the threat of French invasion, the 2ND REGIMENT ROYAL GLASGOW VOLUNTEERS consisted of ten companies totalling approximately 800 men. The officers were drawn from the Glasgow merchant families and commanded by Lieutenant-Colonel James M'Dowall, a former Lord Provost of the city and founder of the Royal Infirmary. The chaplain was William Taylor, the Moderator of the General Assembly and later Principal of Glasgow University. Robert Findlay was commissioned major in the regiment acting as M'Dowall's second in command. Following Findlay's tragic death, it appears the regiment raised funds by subscription for the presentation of this silver cup to his family.
Silversmiths PETER, ANN & WILLIAM BATEMAN registered their mark in 1800, Peter was the son of the celebrated silversmith Hester Bateman, Ann was his sister-in-law and William her son. The family partnership was relatively short lived, ending with Ann's retirement in 1805.
Purchased in 2018 by Glasgow City Council with support from the V&A Museum, London for Kelvingrove Art Gallery and Museum, Glasgow.