The Sheridan Grant silver dishes: love and scandal (and a duel)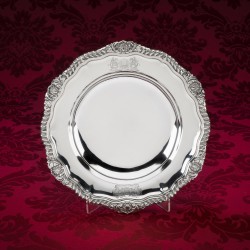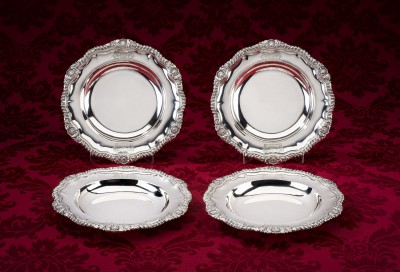 A set of four William IV silver second course dishes each plain shaped circular with gadroon, acanthus leaf and shell border and bowl recess, engraved with two armorials by John Harris, London 1834.
10 1/2″ (262 mm) diameter; 97 tr.oz. (3019 grams)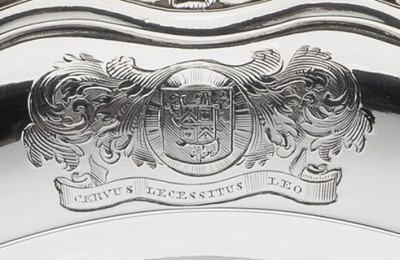 1. Arms of SHERIDAN, Vert a lion rampant between three trefoils slipped for Richard Brinsley Sheridan of Frampton (1806-1888) son of Thomas Sheridan and grandson of the playwright and politician Richard Brinsley Sheridan. Motto: CERVUS LECESSITUS LEO; the arms of GRANT: Gu., three eastern crowns or., as borne by Lieut. General Sir Colquhoun Grant quartered with  BROWNE of Frampton: ar., on a chevron sa. between three herons az. as many escallops for Marcia Grant (1815-1882) in pretense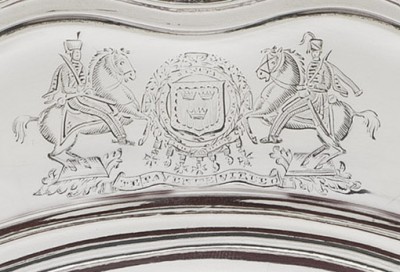 2. Arms of GRANT: Gu., three eastern crowns or. as borne by Lieut. General Sir Colquhoun Grant KCB, (c.1764 -1835) within garter for the Order of the Bath suspending the Grand Cross of the Guelphic Order  and the orders of St Vladimir in Russia and William the Lion in the Netherlands; supporters:  two Hussars of the 15th regiment, mounted with their swords drawn and accoutred. ppr.; motto:  TE FAVENTE VIREBO  
For a few days in Spring 1835, reported the gossipy Court Journal, "the fashionable world was in ferment" over the elopement of Miss Marcia Grant, the 19 year old daughter and sole heiress of Waterloo hero General Sir Colquhon Grant, with Brinsley Sheridan, the indigent grandson of the famed Irish playwright and statesman Richard Brinsley Sheridan (1751-1816).  "Even Politics – eternal Politics – have been swamped" by interest in the scandal, trilled the correspondent. It had everything required for a good scandal: celebrities, sex and money as Marcia would one day inherit Frampton in Dorset, a magnificent mansion and estate worth, in today's terms, £3/4 million pounds a year. After mocking the hypocrisy of its older readers who spoke with "horror, wrath and astonishment" over the incident forgetting their own impetuous past, the magazine gave a full juicy account of events on Friday 15 May when the young lovers borrowed the carriage of a friend in London and hot footed it in just 32 hours to Gretna Green on the Scottish border where, exhausted, they married at 5am on Sunday morning at a coaching inn (now a hotel, Gretna Hall, has a suite named for the elopers) . Visiting the hall a few years later, a journalist from The Literary World asked to see the room where the infamous union had taken place only to find that "it had a very commonplace aspect, in paper and decoration. There should have been a print of Wilkie's Penny Wedding, instead of one of Tom O'Shanter  and another of Two Tygers Fighting ! The latter, methinks, in many instances, too metaphorically true!" Gretna, the first village in Scotland on the principal London to Edinburgh road, had been a popular destination for runaway lovers since the late 18th century when a quirk in law allowed boys as young as 14 and girls as young as 12 to marry without parental consent. As long as it was witnessed, almost anybody could perform the ceremony.
Before fleeing London, Marcia slipped her guardian Sir Robert Macfarlane – who had been charged by the general to keep an eye on her – then sent her maid with clothes on a fool's errand to Dartford  trusting, correctly, that her enraged father would pursue her there believing she and Sheridan were headed for the continent. However, the general had forgotton,  the Journal wryly observed, that he was dealing with the grandson of the ingenious author of "The Rivals" and "School for Scandal" who as a young man had also eloped with his 18 year old lover, the beautiful Elizabeth Ann Linley. Born in 1806, Brinsley was the son of Richard Sheridan's troubled eldest son Tom who had struggled beneath the fame of his father. Brinsley's birth was widely celebrated: his grandfather's fame and friendship secured the prince of Wales as his godfather and his christening was marked with a lavish dinner, a gala performance by artistes from the Opera House and Sheridan's own Drury Lane Theatre and ended with a ball.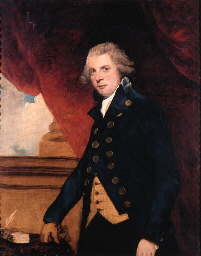 Richard Brinsley Sheridan by Sir Joshua Reynolds
But perpetual money troubles and his father's ill health overshadowed and disrupted his childhood. His parents were often overseas seeking a cure for Tom's tuberculosis leaving their children in the hands of relatives. This rootless existence may have led Brinsley to decide to spurn the romantic but erratic theatrical life of his father and grandfather and to seek a settled career instead in the East India service. But after just eight years as a clerk in Madras, Brinsley returned to England with vague ideas of a career in politics but with no resources to pursue them. Then he met Marcia Grant, the precious only child of the seventy year old General Grant. She was born in 1815, the year of her father's greatest exploit, when Grant had commanded the 5th brigade of the British and King's German Legion cavalry at Waterloo and had several horses shot from under him. With a fortune to her name, the general was unlikely to allow Marcia to marry an impoverished former clerk, however eminent his family name. So, in his family tradition, Brinsley and Marcia plotted to escape.
The Spectator  named Marcia's accomplices in crime as Brinsley's three sisters (colloquially known as "The Three Graces"): the celebrated author Caroline Norton (1808-1877), poet and composer Helen Blackwood (1807-1867), later Baroness Dufferin and Claneboye ; and Lady Georgiana Seymour (1809-1884), duchess of Somerset. The motivation of two of the women for helping their brother was obvious: Caroline  was in a very unhappy, abusive marriage and had begun a scandalous affair with the prime minister Lord Melbourne (which would explode into a notorious court case), whilst Helen had married an impoverished naval officer against her family's wishes.
Immediately, Sir Robert Macfarlane was aware that Marcia had gone he  charged round to the Nortons' house in Spring Gardens beside St James's Park where he found Sheridan's mother (another former eloper ) his three sisters, Lord Seymour and George Norton gathered as if colluding in her escape. Hearing this, an irate General Grant, confounded in his attempt to catch his daughter, accused the entire Sheridan family of criminal conspiracy in the abduction of a minor. He threatened to shoot Marcia's favourite horse, forced Brinsley back from his honeymoon in Cumberland to answer a criminal summons in Chancery and challenged Lord Seymour to a duel as he had refused to divulge the whereabouts of Marcia when pressed by Macfarlane . Officially outlawed since 1815, duelling remained the ultimate resort for gentlemen to gain satisfaction for their wounded honour and neither Grant nor Seymour were prepared to allow the law to deny them. The duel took place at dawn on Hampstead Heath in a scene from "The Rivals" by Brinsley's grandfather (himself a multiple duelist). When the first exchange of shots failed to hit their targets, the general ordered the pistols to be re-loaded. Only the intervention of the seconds and admission by Seymour of some of the details of the elopement prevented bloodshed. Unappeased, the general turned his ire on Caroline's feckless husband George Norton accusing him of being "deeply involved in the disgraceful plot that has been fatal to my pride and happiness".  Despite his violence towards his own wife, Norton was in no condition to accept a duel with a man who had commanded a brigade at Waterloo. Hiding behind his position as a magistrate (which, in Grant's eyes, made his implication "in this nefarious proceeding" even worse), Norton demurred and then avoided further confrontation and repercussions by pacifying the old general.
Indeed, the furore blew over almost as quickly as it began. Remarkably, just a month later in June 1835 Marcia and Brinsley's marriage was officially solemnized at Arthuret in Cumberland and by the time of his death at Frampton six months later in December 1835, Sir Colquhoun was fully reconciled to his errant daughter and her husband. These lovely silver dishes displaying the arms of the newly-weds alongside those of Sir Colquhoun Grant – so finished before the general died in December 1835 – mark that rapprochment and the prelude to a very happy, long and fruitful marriage which produced nine children.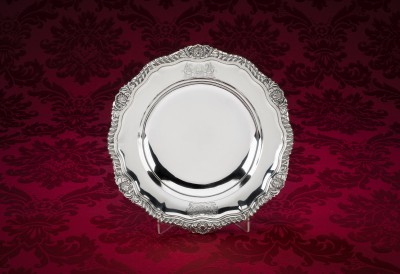 Overseen at Frampton by the magnificent portrait of his grandfather by Reynolds, Brinsley realised the political career  denied his father, becoming member of parliament for Shaftesbury (1845-52) and then Dorchester (1852-68). With Marcia, he also cultivated a circle of literary friends, including Thackerary and Mary Shelley, and even persuaded Isambard Kingdom Brunel to tunnel his railway through the park at Frampton rather than disrupt the view. Only death separated the elopers: Marcia sadly dying first in  1882 then Brinsley in 1888.  By 1932, Frampton itself had gone, its contents sold at auction and the mansion demolished as the family fortune diminished, war and the twentieth century intervened.
Purchased by an American private collector
Further reading:
Atkinson, Diane, The Criminal Conversation of Mrs Norton (2012)
Court Journal, 23 May 1835; 5 June 1835
The Spectator, No.360, 23 May 1835
The Times, 18, 19, 21-23 May, 1 June 1835