Portrait miniature of Lieutenant Daniel Pring RN (c1788-1846)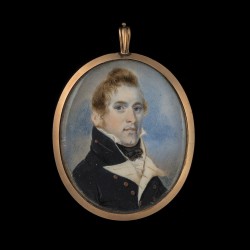 Oval portrait miniature of Lieutenant Daniel Pring RN (c.1788-1846), attributed to Thomas Richmond (1771-1837)
English school, circa 1810
Watercolour on ivory; mounted in gold as a pendent, reverse with plaited hair applied with gold monograms "DP" and "AP".
Dimensions: Oval, 65mm x 55mm / 2 1/2 x 2 1/8 inches (ex. loop)
Provenance: Lot 695, 14 April 2015, Lawrences, Somerset as "a naval officer in uniform".
RE-DISCOVERED PORTRAIT OF A NAVAL HERO OF THE WAR OF 1812
Born in Devon, Daniel Pring (c.1788-1846) entered the Royal Navy as a midshipman in 1800. His first ship was HMS Russell, 74 guns, in which he served at the battle of Copenhagen. Early in 1805 he was appointed master's mate in Narcissus, 32, which took part in the capture of the Cape of Good Hope making several captures of enemy vessels. After a brief return to England, he returned to South America in Ardent, 64, going ashore with the army at the storming of Montevideo in February 1807.
In April 1808, Pring was promoted lieutenant  transferring to the captured 12 gun schooner Paz which cruised for the next three years in the Channel and North America taking several prizes. On 27 August 1810, he married Anne (c1792-1866, maiden name unknown) and no doubt this portrait miniature – which shows Pring in lieutenant's uniform and is mounted on the reverse with the newly-wed's initials and, probably, her plaited hair – was ordered soon afterwards.
In 1811, Pring joined Africa, 64, the flag ship of Admiral Sawyer, the commander-in-chief of the North American station at Halifax. The next year he moved with the flag to San Domingo, 74, on the appointment of Sir John Borlase Warren as Sawyer's successor. In March 1813, Pring was sent with Lieutenant Robert Heriot Barclay to command vessels on the lakes of Canada following outbreak of war with the United States.
In July 1813 he was charged by Captain Sir James Yeo, the senior naval officer in Canada, to oversee the dockyard at Île aux Noix and to assume command on Lake Champlain. With the acting rank of commander (confirmed in November 1813), Pring – first in Royal George, 22 guns, then Wolfe, 20 guns – led boat attacks on United States' facilities on the lakes including the naval base at Sackett's Harbour on Lake Ontario and military installations at Plattsburgh and Cumberland Head where he destroyed enemy barracks, arsenals and stores. On his return from Cumberland Head he was forced to cut a channel for his boats through several miles of ice.
At Coteau-du-Lac, Pring supervised the construction of gunboats to defend Montreal from enemy attack. He faced a formidable and well-organised enemy. Under the inspired leadership of Thomas Macdonough, the Americans harassed and attacked British ships and facilities culminating in the battle of Lacolle Mills on 11 September 1814 when a British flotilla under Captain George Downie and including Pring in Linnet, 16, was defeated in a bloody action in Plattsburgh Bay.
During the engagement Downie was killed  and Pring, assuming command, was forced to surrender to Macdonough. As the flotilla had been supporting a British land offensive at the time, the defeat led to bitter recrimination between the army and navy although the subsequent court martial (automatically convened in the event of surrender)  found that Pring and his fellow officers had "conducted themselves with great Zeal Bravery and Ability".
In September 1815, Pring was promoted post-captain and in June 1816 he was placed in command of the naval establishment on Lake Eyrie. In 1838, by now captain of Inconstant, 36, after some twenty years on half pay at his home Ivedon House near Honiton in Devon, Pring brought Lord Durham back to England at the end of his appointment as governor-general of Canada. He was then appointed senior naval officer in Jamaica dying there, probably of yellow fever, on 29 November 1846.
The Prings were apparently childless and at his death, Daniel left Ivedon House and property in Devon to his wife and a close friend. Although there is a monument to his memory in the Church of St Michael and All Angels, Awliscombe, this is the first known portrait of  Daniel Pring who, according to the Dictionary of Canadian Biography, "played an indispensable part in protecting the Montreal frontier during the War of 1812" (see Daniel Pring entry DCB).
Further reading:
Dictionary of Canadian Biography
O'Byrne, W.R. A naval biographical dictionary: comprising the life and services of every living officer in her majesty's navy… (London, 1849)