Newly discovered portrait of Isabella Parry, wife of Polar explorer Sir Edward Parry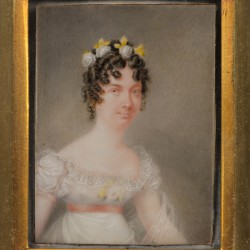 Miniature portrait of Isabella Louisa Parry (1801-39), watercolour on ivory, English School, circa 1826, rectangular 100 x 75mm (4″ x 3 ″), later gold mount within giltwood frame, annotated in a later hand on reverse of frame: Isabella, Lady Parry, For Hugh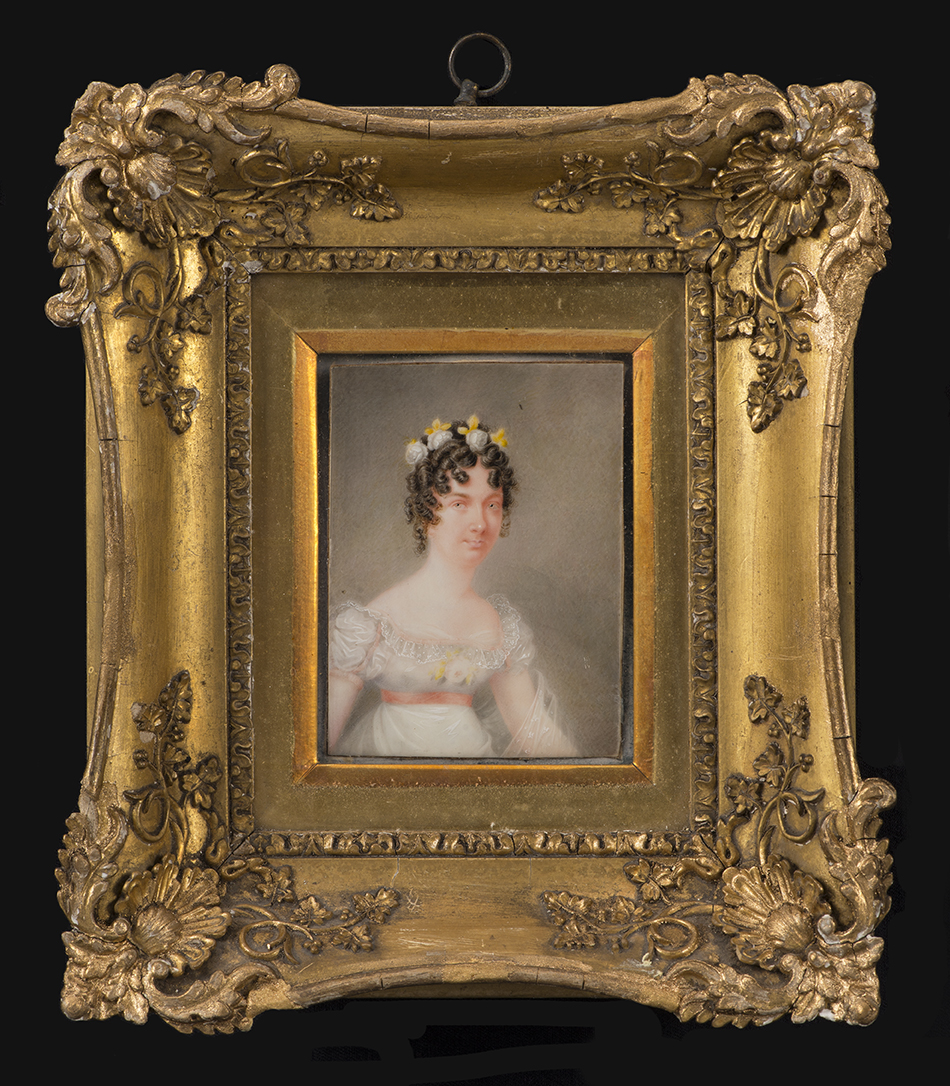 This beautiful rediscovered miniature portrays the first wife of the Arctic explorer Sir (William) Edward Parry  (1790-1855). Parry was already highly celebrated when he met Isabella Stanley, daughter of John Thomas Stanley first Baron Stanley of Alderley, having led two expeditions in search of the then-fabled North-West passage.  They met in 1824, on the eve of Parry's final attempt to navigate from the Atlantic to Pacific Oceans via the Arctic, and married on his return at Alderley in Cheshire on 26 October 1826. The miniature probably portrays Isabella in her wedding gown. According to The Morning Chronicle in its account of the nuptials of the "great Northern Voyager" and his "accomplished" bride, Isabella was "plainly, yet elegantly dressed in a white robe; she wore a veil". In a letter to her sister, Isabella recounted how, during their honeymoon, William had presented her with "a small bit of yellow Jessamin":  a touching gesture and reference to the same flower – yellow Jasmine – worn in her hair ornament and on her bodice in the miniature. The form of the miniature suggests it was originally carried – probably by Sir Edward as an intimate memento – in a folding travelling frame. It was probably re-framed after Isabella's early death accounting for some loss of tone and colour.
Following his marriage, in 1827 Parry attempted to reach the North Pole and although, facing horrendous condition, he again failed in his goal, no one would travel as far north for almost fifty years. After an unsatisfactory spell as hydrographer to the Admiralty, Parry accepted the rewarding position of commissioner to the Australian Agricultural Company travelling to Sydney with Isabella in 1829, shortly after he was knighted.
The Parrys lived in Australia for the next four years, principally at 'Tahlee' their house in Port Stephen, near Newcastle in the Hunter Valley. During this time, Isabella, with apparently boundless energy, gave birth to twins Edward and Isabella (two more children Lucy and Charles would follow) and opened a school and library for convicts and their children. Strongly religious, like her husband, she also designed and oversaw the building of a new Company chapel. Most unusually for a European, she also took great interest in the well being of the local Aboriginal people observing in her journal how their huts were "formed of two pieces of bark placed upright against each other. They appear to be very harmless, quiet people, quite different from those near Sydney, who are so very bad and horrible-looking." As to "our" natives she wrote, "none of them wear any clothing, except some of the women, who throw a blanket over their shoulders, when they can get one". Sensing she was "becoming rather more used to this" nakedness, Isabella thought she "may even learn to admire a little native black child" as she often longed "to see the small black things, running about like little imps".
In addition to her interest in the welfare of the native and convict population, Isabella delighted in the extraordinary fauna and flora of the Hunter Valley, furthering her love of gardening and building a collection of butterflies and insects. When the Parrys eventually sailed for home, only the length of the journey prevented Isabella taking a collection of native animals with her, including the black swans which lived on the lake at Tahlee.
The lasting legacy of Isabella's stay in Australia is her remarkable collection of drawings and watercolours of Port Stephen and its environs, many now in the Scott Polar Institute in Cambridge, which give vivid and rare insight into the early days of the European settlement of Australia. In addition, Lady Parry, an uninhabited island in Nunavut, Canada is named after her.
Acquired by the National Portrait Gallery, Australia.