Lost face of Nelson's "son"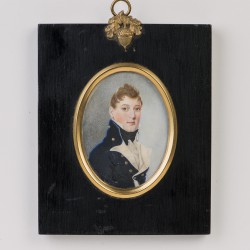 This miniature which I discovered in his family's collection, finally revealed the face of Nelson's favourite and most enigmatic protégé Edward Thornbrough Parker, frequently referred to by the admiral in intimate terms as his 'dear son and friend'. Until recently very little was known about the enigmatic young officer whose life was so tragically cut short but who remains a key figure in the story of Nelson . From a naval family background, Parker entered the service as midshipman in 1790 serving in a series of ships before joining Mermaid on the outbreak of war with France. In 1796, he passed his lieutenancy exams, his career until then following the familiar pattern of many young officers. Then a still mysterious but obviously traumatic event took place which cast a shadow over Parker's professional career. It was in this distressed condition that Nelson first encountered him, likely in 1798. The admiral took charge of Parker, securing him a place in his flagship Foudroyant after the battle of the Nile. Under Nelson's patronage 'little Parker' was rapidly promoted to commander accompanying the admiral in negotiations following the battle of Copenhagen in 1801. By now, Parker was not only acting as Nelson's unofficial aide-de-camp and amanuensis but also as informal go-between between the admiral and his mistress Emma, Lady Hamilton. He described Nelson in vivid terms as 'my friend, my nurse, my attendant, my patron, my protector, nay him who the world cannot find words sufficient to praise'. Proudly calling himself a 'Nelsonite', he accompanied Nelson and Emma on holiday in England, forging intimate ties with them both (so much so, that one 19th century biographer even suggested that Parker was father to Emma's child). When Nelson was then posted to command the anti-invasion forces in the Channel, Parker assisted in planning operations taking the leading role in a failed boat attack against French forces at Boulogne on 15 August 1801. During the mission, Parker's thigh was shattered by shot. He was taken to lodgings in Deal where after suffering terribly and enduring the amputation of his leg, he died on 27 September. Nelson, and also Emma, was stricken with grief, arranging and paying for a funeral in the town with full military honours before erecting a monument to Parker's memory. At Nelson's request, some of Parker's hair was preserved for eventual burial with the admiral, a token of an extraordinary and intimate friendship.
The miniature of Parker is a lovely example of the type frequently commissioned by officers when they returned home from overseas for sending to their family. Possibly paid for with prize money, it may have been completed by one of the many highly accomplished miniature artists who plied their trade at the major ports. One imagines the image was much wept over following Parker's tragic death.
The miniature was accompanied by a gilt medal and printed portrait of Nelson, both presented to Parker by the admiral himself, and by Parker's simple four draw telescope. Further images available on request.
Announcement of discovery in the Antiques Trade Gazette, October 2013
Article on discovery of the Parker miniature in the Kent Mercury, November 2013