Going to bed with Nelson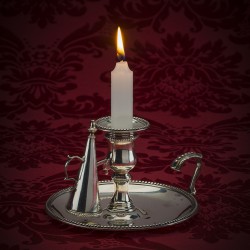 This George III silver chamber candlestick with its extinguisher, made by Thomas Hannam and John Crouch in London 1775, belonged to Admiral Lord Nelson. It is engraved with his San Josef crest granted to Nelson when he was made a knight of the Order of Bath after the battle of Cape St Vincent in February 1797. The crest represents the stern of the Spanish warship seized by Nelson during the action in spectacular style when he crossed one enemy ship to capture another in what became known is the Royal Navy as the "Nelson's patent bridge for boarding enemy vessels." Of conventional form, the chamber candlestick would have been used by Nelson and his wife Fanny in England, and possibly by Nelson when at sea. It was eventually sold by descendants of Nelson's step-son Josiah Nisbet (Fanny's son by her first marriage)  indicating that it had remained with Fanny after her separation from Nelson in 1801 when he returned to England after the battle of the Nile in company with his mistress Emma Lady Hamilton.
Sold in 2015 by private treaty to a UK private collector.