Flag of C.S.S.Alabama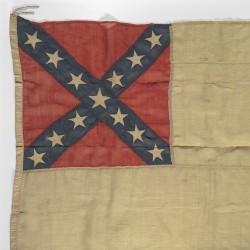 In 2011, I was instructed to sell a battle ensign from the legendary Confederate warship C.S.S. Alabama. The ensign belonged to a family in the West Country of England descended from a British merchant called Hugh Rowland Beaver who had supported the Confederacy during the American Civil War. He had been presented with the ensign following the loss of the ship in action against U.S.S.Kearsage in the English Channel on 19 June 1864. Following my lengthy research to establish provenance of this remarkable relic the flag was sold at Sotheby's New York for $218,500.
A RARE NAVAL TREASURE OF THE AMERICAN CIVIL WAR
The battle ensign of C.S.S. Alabama struck on the orders of Captain Raphael Semmes following his ship's defeat by U.S.S. Kearsage off Cherbourg, 19 June 1864.
Believed lost for almost 150 years.
Provenance:
Captain Raphael Semmes of C.S.S. Alabama
By gift in 1864 to Hugh Rowland Beaver of Cumming, Beaver & Co., merchants of supply to the Confederate Navy.
By descent to the present owner.
Location: England.
Dimensions: Approx 40" (103cm) x 65" (166cm)
Materials: Wool bunting and cotton.
Condition: Generally very good with minor tears, some smoke and water staining.
History of the flag
By family tradition this unique relic was passed to Hugh Beaver, ancestor of the current owner, by officers of CSS Alabama following the ship's sinking by USS Kearsage on 19 June 1864. Beaver, whom Captain Semmes of Alabama considered 'a clever English merchant' , had met the Confederate officers in Singapore the previous December when his firm Beaver, Cumming & Co. had acted as agents of supply to the ship. Beaver entertained the captain and his officers at his 'luxurious' residence outside the town, an account of which Semmes included in his autobiography Memoirs of Service Afloat during the War between the States (see Appendix 1).
Lieutenant Arthur Sinclair was even more lavish in his praise for the English merchant noting how the officers and crew of Alabama 'became indebted to him for many attentions and delicate evidences of sympathy and friendship' (see Appendix 2).
According to Lieutenant Sinclair, the Confederate colours struck by Semmes at the climax of Alabama's engagement with Kearsage had been flying from the 'mizzenmast-head for the spanker-gaff had long since been shot away'. This could account for the apparent small size of the flag as it may have acted as a hasty replacement for a larger, destroyed flag. In any case, Semmes would not have pursued the action without showing his colours.
After the battle, Semmes recuperated in England and after a brief tour of Europe returned to America in September 1864. During this period, the Alabama's battle ensign, recovered before the ship sank, was presented to Hugh Beaver possibly by Lieutenant Sinclair who noted that Beaver extended him 'the same completeness of hospitality at his London home' as he had in Singapore.
Sixty years later, and within living memory, the gift was confirmed by Hugh Beaver's great nephew Sir Hugh Beaver in an article for the Anglesey Antiquarian Society in 1928 (see Appendix 3). This article was cited by the mother of the flag's current owner in a letter to Mariner's Mirror in 1973 (see Appendix 4).
Account of Captain Semmes' visit to Hugh Rowland Beaver following the arrival of CSS Alabama at Singapore in December 1863.
(taken from Memoirs of Service Afloat during the War between the States by Raphael Semmes, London 1869, p.714)
'Mr Beaver, of the firm of Cumming, Beaver & Co., a clever English merchant, came on board, and offered to facilitate us all in his power in the way of procuring supplies. I accepted his kind offer, and put him in communication with the paymaster, and the next day rode out, and dined, and spent a night with him at his country seat. He lived in luxurious style, as do most European merchants in the East. The drive out took us through the principal streets of the city, which I found to be laid out and built with great taste—the edifices having a semi-English, semi-Oriental air. The houses of the better classes were surrounded by lawns and flower-gardens, and cool verandahs invited to repose. Mr Beaver's grounds were extensive, and well-kept, scarcely so much as a stray leaf being visible on his well mown lawn. His household—the lady was absent in England—was a pattern of neatness and comfort. His bath-rooms, bed-rooms, library, and billiard-room—all showed signs of superintendence and care, there being an air of cleanliness and neatness throughout, which one rarely ever sees in a bachelor establishment. His servants were all Chinese, and males. Chi-hi, and Hu-chin, and all the rest of them, ploughed his fields, mowed his hay, stabled his horses, cooked his dinners, waited on his guests, washed his linen, made his beds, and marked his games of billiards; and all at a ridiculously low rate of hire. If there had been a baby to be nursed, it would have been all the same.'
Impressions of Hugh Rowland Beaver by Lieutenant Sinclair during the Alabama's stay in Singapore and afterwards in London
(taken from Two Years on the Alabama by Arthur Sinclair, London, 1895, p.200)
'It was the privilege of the writer and messmates to form the acquaintance of Mr Beaver, of the firm Cumming, Beaver & Co., London and Singapore merchants, and become indebted to him for many attentions and delicate evidences of sympathy and friendship. Nothing was left undone for our amusement and comfort that could suggest itself. Our ship's affairs were in his able hands; and through him the labours of our industrious paymasters were reduced to a minimum, and all the intricacies of bargain and trade carried out. To the officers on pleasure bound he was adviser and guide, and when the labours of the days were over with him, and the round of pleasure and sight-seeing with us, his home was the haven where our rest and refreshment awaited us. Indeed we could not very well have dispersed with his care, and have achieved a tithe of the enjoyment he managed to secure for us. The same completeness of hospitality at his London home was later extended to this writer'
Testimony of Sir Hugh Beaver
(taken from "An Anglesey Sea Captain" by Hugh Beaver in Transactions of the Anglesey Antiquarian Society and Field Club, 1928. p59fn.)
It was the boast of Admiral Semmes that nothing was saved, when the Alabama was sunk off Cherbourg by the Kearsage, that might be a trophy for the victors. In fact his boat's flag was saved and that he presented to Rowland Beaver in return for his hospitality at Singapore. The flag still exists, probably the only tangible relic of one of the great raiders in naval history. It is a large white flag, the top corner next the flagstaff being red with a St Andrew's cross of blue imposed on it. On the cross are thirteen white stars, representing the original thirteen United States.
Testimony of the great great niece of Hugh Rowland Beaver.
(published in Mariner's Mirror, Vol. 59, No. 3 (August, 1973) p.351.)
Dear Sir,
I have in my possession a relic of an incident in nineteenth century American Naval History which may be of interest to some of your readers. It concerns the Confederate cruiser Alabama which caused immense losses to the Federal States during the American Civil War and also severely strained relationships between the Governments of the United States and this country in what became known as the Alabama question.
The Alabama was finally sunk on 19 June 1864 by the Federal U.S.S. Kearsage off Cherbourg—see letters on the Alabama edited by Frank J. Merli in M.M., Vol. 58 (1972), page 216. Although it was thought that nothing had been saved from the ship, in fact Alabama's flag was rescued by her Commanding Officer Captain Semmes which he gave to my great-great uncle Hugh Rowland Beaver in gratitude for his hospitality and for his having revictualled the ship at his own expense when she called at Singapore in December 1863.
This flag is now in my possession, having passed down through the generations. The following description is from an article written in the Anglesey Antiquarian Society's Transactions of 1928 by my uncle the late Sir Hugh Beaver (the Beaver family came from Anglesey and many of them were seafarers): 'The flag exists as probably the only tangible relic of one of the great raiders in naval history. It is a large white flag, the top corner next to the flagstaff being red with a St Andrew's cross of blue imposed on it. On the cross are thirteen white stars representing the original thirteen United States'.
I might add the flag is in excellent condition, though the white background has faded.
Yours faithfully,
(Mrs) J.H.Leach