Dance to fame: silver from the Royal Academy of Arts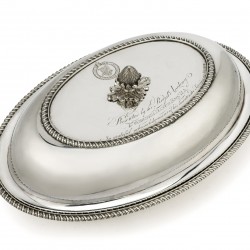 A fine and historic pair of presentation sterling silver entree dishes and covers by Robert Garrard, London 1809, each domed oval with gadroon edging, covers engraved with a family crest and motto: VIRTUTEM SEQUITUR FAMA, interior of dishes similarly engraved in two places. Covers with removable strawberry and leaf finials and further engraved with a presentation inscription: "Presented by the Royal Academy to GEORGE DANCE ESQ R.A. In grateful acknowledgment of his disinterested services as AUDITOR"
Overall length of each approx: 310mm / 12 1/4″
Width of each approx: 220mm / 8 3/4″
£12.500
George Dance (1741-1825) was the stereotype Georgian polymath: a talented musician, he was also a highly accomplished artist and City of London dignitary. But his principal fame today rests as an architect. His training in Italy made him an early exponent of the Classical style which came to prevail in 18th century England.  In 1768, Dance succeeded his father as Clerk of the City works so was at the vanguard of the major redevelopment of Georgian London which ensued as uniform terraces, squares and crescents stretched out from the City's hub. Major London commissions included Finsbury Circus, Newgate Prison, St Luke's Hospital and the Guildhall. As a City legislator, he defined and initiated planning laws leaving a permanent imprint on London. Away from town, Dance was also sought by wealthy clients to re-model or build country mansions in voguish neo-classical style although his flair for bold, imaginative design made the buildings distinctly and uniquely his own. This confidence and intelligence of Classical vision was passed to Dance's most celebrated pupil John Soane who built his fame on Dance's artistic legacy. Highly regarded and well-connected (Haydn was a personal friend), it is unsurprising that in 1768 Dance was sought as one of the forty founding members of the prestigious Royal Academy of Arts becoming Professor of Architecture at the new Academy schools in 1798 (although he never delivered a lecture and was fined for not exhibiting work).
In later life, Dance drew a series of vivid and revealing profile portraits of his fellow RA members and other personalities in Regency London. These he described as'a great relaxation from the severer studies and more laborious employment of my professional life' . It was as an able administrator, however, that Dance  best served the fledgling institution. In 1795, together with fellow architect and sculptor William Tyler, he was commissioned to prepare a report on the academy's parlous finances.  Subsequently both men were appointed auditors working diligently to repair the accounts. On 2nd February 1799, the Council, with Sir Joshua Reynolds as President of the RA in the chair, voted Dance and Tyler a silver cup of the value of twenty- five guineas: "for the very great services they had rendered in investigating and settling the accounts of the Royal Academy up to the present year". When Tyler died in 1801, Dance continued in the task alone, even after he resigned his Chair in 1805. In 1809, he received a further, larger, grant of £50 for silver in recognition of "the ability and fidelity with which he long discharged the office of Auditor" which was spent on a pair of silver dishes from leading silversmith Robert Garrard. These dishes – identified in a private collection in the USA and designed for serving during first and second courses – are decorated  inside and out with Dance's family crest of a horse's head wreathed with oak leaves and motto:  Virtutem Sequitur Fama ("Fame follows virtue") and engraved with the presentation inscription:
Presented by the Royal Academy
to GEORGE DANCE ESQ R.A. 
In grateful acknowledgment of his disinterested services as AUDITOR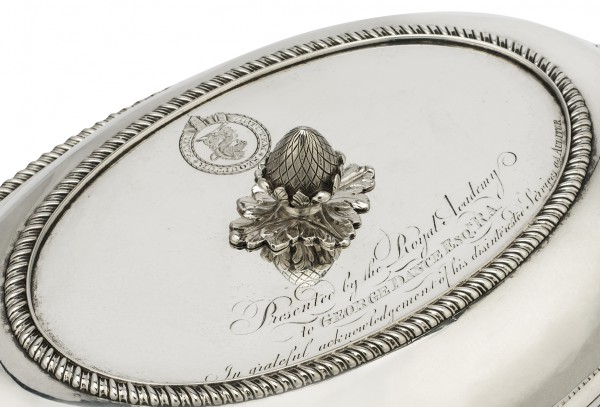 After suffering a stroke in 1815, Dance withdrew from his public and professional life and – having outlived all his fellow founding members of the RA – died ten years later on 14 January 1825. He was buried in St Paul's Cathedral at the heart of the city he shaped. His silver dishes offer a fascinating glimpse into the early, and often precarious, life of the world famous Royal Academy and into the personalities of its founding members.