Nelson's Purse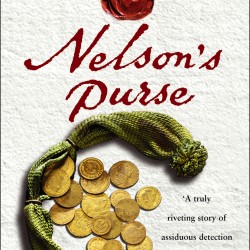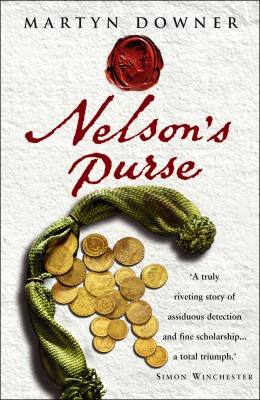 Nelson's Purse recounts Martyn's extraordinary discovery of a trove of treasures belonging to Admiral Lord Nelson including the blood stained purse he carried to his death at the battle of Trafalgar. The trove was discovered in a forgotten trunk belonging to descendants of Nelson's prize agent and confidant Alexander Davison. In the book, with novelist's flair Martyn tells the story of Davison's remarkable life: from his humble beginnings in rural England to fortune as a self-made merchant oligarch and finally to his downfall and imprisonment. Nelson weaves through the story throughout: from first meeting Davison in war torn North America to the final fateful days before Trafalgar.
Reviews:
"This is a truly riveting story, a culminating triumph of assiduous detection and fine scholarship which, even if it somewhat bruises the image of Admiral Nelson, adds fascinating detail to one of the most extraordinary love triangles ever known. Downer's wonderful and newly revealed story is essential reading for those longing to know the human side of a great Imperial hero. I have long been fascinated by Alexander Davison's story, and this book is, for me, a total triumph." – SIMON WINCHESTER, author of The Surgeon of Crowthorne, Krakatoa: The Day the World Exploded and The Meaning of Everything: The Story of the Oxford English Dictionary
"How could someone so central to Nelson's life have been so overlooked? By following the little-known figure of Alexander Davison, Nelson's Purse brings to light a fascinating character in his own right, as well as wonderfully evoking this great age of naval power. The discovery of Davison's correspondence has enabled Downer to offer a more complete portrait of Nelson than has been given before, one that squarely reveals both his reckless brilliance and his unfortunate, haunting weaknesses. A wonderful voyage." – CAROLINE ALEXANDER, author of The Bounty: The True Story of the Mutiny on the Bounty
"From its first paragraph, Nelson's Purse is a wonderfully enjoyable and engaging read. Its vivid, well-shaped, and seductive narrative carries the reader along. With acute insight, Downer illuminates the behavior of the constellation of characters in the human drama of the break up of Nelson's marriage. Not least, he reveals for the first time in coherent detail the rise and vertiginous fall of Nelson's confidant, agent, banker, go-between, and Mr. Fixit-Alexander Davison." – EDGAR VINCENT, author of Nelson: Love & Fame
"Nelson's Purse is Downer's fascinating account of his discovery, and his reconstruction of Nelson and Davison's intertwined lives…[the book] sheds significant new light on the complex relationship between Nelson and his wife, Fanny…Between now and next October, the bicentenary of the Battle of Trafalgar and Nelson's death, we will be deluged with Nelson-related books, articles and programmes. Martyn Downer's rich, highly personal account of his discoveries, and the new light they shed on the life of our greatest hero, will stand out among them." – LUCY MOORE, author Maharanis: The Lives and Times of Three Generations of Indian Princesses (Daily Mail 15 October 2004)
"Downer's account of the Nelson-Emma-Fanny triangle is a gripping read, and he succeeds triumphantly in rescuing Davison from obscurity." – JANE RIDLEY (The Spectator 9 October 2004)
"Strewn with vivid images, such as the pall of gunsmoke sucked out of the cockpit of the Victory by the blast of a fresh broadside on the deck above, Downer's narrative is well researched and well written" – NEIL HANSON, author of The Confident Hope of a Miracle (Sunday Times 17 October 2004)
"Downer has chosen to combine the intriguing story of this discovery not only with a biography of Davison (a fly yet attractive character, whom he drags from the shadows) but with a rip-roaring account of Trafalgar…[he] has a good story to tell and does so in a high style that will satisfy readers of historical novels. What's more, there is enough strange reality to intrigue those preferring non-fiction" – TOM POCOCK (Literary Review November 2004)
Martyn Downer makes excellent use of long-lost correspondence to recover the flawed greatness of the titan who conquered Napoleon's navy but never himself. An epic and tragic story, here told with flair and with a keen sense of the messy majesty of it all." – JOSEPH J. ELLIS, Pulitzer prize-winning author of Founding Brothers: The Revolutionary Generation and His Excellency: George Washington.
Extract
Chapter 1 – Victory
William hardly slept; none of them did. The dull ache in his stomach had risen to his throat bringing with it bile and the sour taste of fear. Men had told him about the morning of battle, bragging of their own bravery. They were lying, of course – it was the grog talking – but everyone went along with their swagger. The men who had fought at the Nile or Copenhagen never spoke of it. Now that day had dawned for him, and he simply felt hollow. He was cheek by jowl with a thousand men but felt as lonely as a lost child. He expected his bowels to open, and they did, and to be sick, which he was; but this awful sensation of helplessness in the face of a brutal, random death was startling.
His hand shook as he shaved, though it still paused instinctively as the ship rose and fell. William took longer than usual over the task, relishing the mundane routine. It was only when he gazed into his glass and imagined himself dead, his torn body sinking into a crimson sea, that he was, for a moment, overwhelmed by such dread that he had to hold himself from running wildly away. But he couldn't move and there was nowhere to run to. Only when his spiralling fears glimpsed Elizabeth asleep in London did he relax, clutching the image. His wife did not know what he was facing here, now, today. He was grateful for that. It would be days, weeks even, before she heard whether he was alive or dead. He vowed, if he survived, never to leave her again.
William, as a mere servant, berthed in the orlop deck, below the waterline, in the dank, fetid bowels of the ship. He watched as it was cleared for casualties. The loblolly boys were rolling bandages, counting out sponges and busily swabbing down the midshipmen's table in the cockpit. Beatty the surgeon was arranging his knives and saws, checking their keenness from time to time with his thumb. The men hid their thoughts, each absorbed in his task. William was thankful the edgy heartiness of the night before had gone. He was reassured by the sight of this orderly calm before the looming chaos. More than ever now he wanted to live.
In one involuntary movement, as if joined together by an invisible thread, all the men on the deck suddenly paused and glanced up. For a moment there seemed no reason for this. Then William realised that the familiar creaking and thudding sound of the rudder, the heartbeat of his wooden world, was changing. The noise rose to a roar as, heaving slowly at first and then with a sudden lurch, the ship slipped steeply to port to go about. The men clutched the beams above their heads. Beatty's tools crashed off the table, clattering chaotically across the deck. For several minutes the ship held this position, shuddering painfully, until slowly the deck straightened and the lanterns hung straight again. High above the spot where William stood, the wind grabbed the vast sails of the ship and the familiar rolling sensation again surged through his body. His Lordship had turned them towards the enemy.