A late 18th century French polychrome decorated carved wooden figure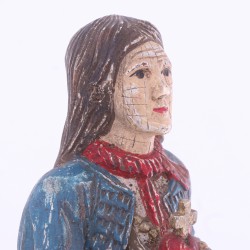 This rare carved figure is a relic of the little-known Royalist rebellion and counter revolution in the Vendée region of south-west France during the French revolution. Like the Chouannerie uprising in the west of France, the rebellion in the conservatively minded and strongly Catholic rural region was sparked by the brutal suppression of the clergy and the imposition of conscription to the Republican army by the National Convention in Paris. Instead of joining the army to defend the revolution, many men in the Vendée took up arms to form a "Royal and Catholic Army" to restore the monarchy and clergy. Drawn largely from the peasantry, the troops were distinguished, like this figure, by their red Sacred Heart badges, neck chiefs, blue coats and hats. Lacking arms and relying on guerrilla tactics, pitchforks and scythes the Catholic army enjoyed some early success routing the Republican army sent to subdue the uprising and seizing control of a large swathe of territory between the Loire and Lay rivers.
Stung into action, the Committee of Public Safety in Paris ordered the "pacification" of the region by twelve "Infernal" columns of highly-trained republican troops. Between January and May 1794, pursuing "scorched earth" tactics, the Infernal columns are said to have massacred up to 50,000 Vendéan civilians with many of the leaders of the revolt captured and guillotined. Shattered and scattered by the brutal suppression, the Catholic army limped on until 1796 when a series of treaties ended the fighting. But peace came at terrible cost as estimates – still hotly disputed – of those killed in the conflict range from 110,000 to 450,000, out of a population of some 800,000.
Height approx: 350mm / 13 3/4″
Price: £1500
Images available.
FIGURE EN BOIS SCULPTE PEINT POLYCHROME REPRESENTANT UN COMBATTANT VENDÉEN, FRANCE,  FIN DU XVIIIEME OU DEBUT DU XIXEME SIECLE